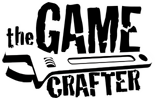 You've an idea for a tabletop game (board or card style game) - how do you get it made?
One useful resource is The Game Crafter. This site specialises in self-published games. It allows small print runs (not the 1,000s a normal printer will ask for!) of your own games. If you want, you can also sell your game through their site - which they print on demand for customers.
WARNING! Postage costs are expensive, especially if you are outside the US, so make sure you factor that into how much a game will cost you to produce.